What is Okayama's 100% Organic Brown Dried Rice Koji (Marukura)
Organic Dried Brown Rice Koji By Marukura is a rice koji with organic JAS certified made by the craftsmen from Okayama Prefecture. Not only JAS, but this product also passed the FDA (American Food and Drug Administration) accreditation test, one of the most strict food and drug accreditation in the world.
This product is carefully and slowly produced in warm temperature so the koji mold won't break.
You can use rice koji for making sweet sake (amazake), homemade miso (traditional Japanese seasoning made from fermented soybeans and barley or rice koji), shio koji (Japanese natural seasoning made by salt, water and rice koji), and other things. You can also use it as a substitute materials when making yeast food such as bread and sweets.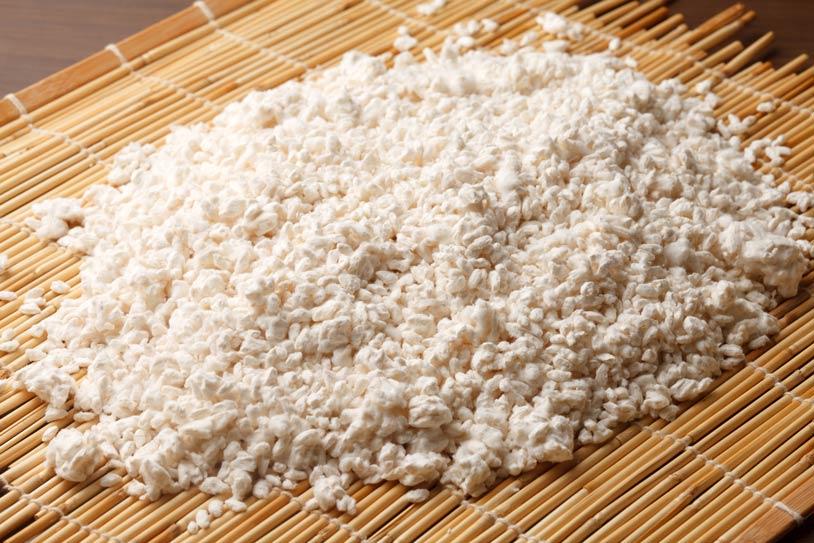 How to Rehydrate Dry Koji
First time using dry koji? Find out how to easily rehydrate dry koji to make Japanese fermented foods.
NOW AVAILABLE ON AMAZON USA!
We are pleased to inform you that Marukura 100% Organic Dried Brown Rice Koji is now available on Amazon USA. Click the link to see the product!
BUY ON AMAZON
About The Difference Between White Rice Koji and Brown Rice Koji
At first glance, the color is different. But not only its appearance, but the taste and fragrance are also different.
If you make miso or sweet sake with white rice koji, the result will be very sweet. With the refreshing scent, there are almost no Japanese people who would dislike it. Also, since the production volume is also large, white rice koji is easy to obtain. The dish recipe using white rice koji is also abundant, so it is perfect for people who are a beginner at using koji.
Brown rice koji can be used for making miso, shio koji, and sweet sake as well. But compared with white rice koji, the unique sweetness of brown rice has become its attractiveness. It tastes slightly bitter and remains in the mouth. This subtle bitterness And flavor is the real pleasure of brown rice. There are lots of previous costumers who reorder the brown rice koji when try tried it for the first time. The deep sweet scent brings so much presence.
For those who have already used the white rice koji and grasped the know-how of the fermentation process , this brown rice koji will be our next recommendation item you would like to try!
Even those who use koji for the first time, please note that brown rice koji is not hard to handle. Like white rice koji, you can use it for various dishes. The only difficulty is that brown rice koji cannot be stock up easily because of the small amount of distribution.
Message from Our Customers
I like it so much that I finished using the dried koji so quickly.
Because I finished using is so quickly, I think I'll buy it again in bigger amount....(Ms. Asami Takazawa)
This dried rice koji is slightly sweet.
I boiled the 150g of cooked rice and 900ml of water to the pot and put in the koji when the temperature reaches 60-degree Celcius. After I transferred it to the rice cooker and keeping the lid open for 10 hours in a warming mode, I can make amazake without fail....(ebofvr)
So delicious!
It doesn't taste too strong and very tasty....(Mr. Kazuki Isono)
The homemade miso that I made using this dried rice koji has a certain deep taste to it.
It's so good, I've made it countless times....(Ms. Yoko Tsukamoto)
I was worried about the best before date because I wanted to use it overseas, but it could last for 6 months.
I can make delicious amazake from this, so I recommend it!...(Ms. Suzuka Mizusaki)
How to Use Organic Dried Brown Rice Koji?
Like the white rice koji, you can use this to make sweet sake, homemade miso, and shio koji easily at home. The dishes will be more delicious if you use the high-quality koji made by old-fashioned way!
Homemade shio koji can be made by mixing dried koji, salt, and water and then fermenting it.
If you mix soybean and salt in dried koji and ferment it for a long time, you can make handmade miso. *On the packaging, it is stated that you should rehydrate dried koji before using it. But you can use dried koji as it is when you're making homemade miso.
Mix dried koji and hot water of about 55-60 degree Celcius in a rice cooker or any type of heat incubator. Keep it warm for about 6 hours and you can make delicious amazake only with rice koji!
Fermented Food Recipes from Kawashimaya The Japanstore
The Difference Between Dried Koji and Regular Koji
Dried koji is a type of koji that has been dehydrated. Koji can be divided into two types: regular koji (raw koji) and dried koji. Regular koji that is not dried is susceptible to various unwanted bacteria. It can also easily deteriorate in quality due to self-fermentation. Therefore, regular koji is harder to store. Because of that, dried koji was created.
Dried koji is very strong against various bacteria that have bad effects on the fermentation. It can also prevent self-fermentation. In addition to that, the taste of dried koji is pretty much the same as regular koji.
Message From Marukura Food Manufacturer
The Marukura Food Manufacturer do the production and sells koji, sweet sake, and miso at Kurashiki City, Okayama Prefecture. In addition to domestic sales, we are exporting organic food (such as brown rice sweet sake, white miso, wheat miso, natto miso, etc) to North America, European Union, Australia, and Southeast Asia. Because of that, we strive to deal not only with domestic hygiene standards but also overseas hygiene standards. In November 2017, we passed the examination from FDA (United State's Food and Drug Administration) which is said to be one of the most difficult examinations. Because of that, we can smoothly exports well. There are indeed lots of companies with a long history that can not be imitated outside Japan. We take advantage of know-how to cultivated to produces food that can be eaten deliciously, safely and securely. That is the restoration of a brand made in Japan.
Special Features of Organic Dried Brown Rice Koji By Marukura
● Because this product dried at a low temperature, it is effective for long-term preservation.
● Production doesn't use any additives nor chemical substances.
● Passed the Organic JAS Certification and American Food and Drug Administration (FDA) Certification.
Product Details
Name
Okayama's 100% Organic Dried Brown Rice Koji (Marukura) - 500g
Quantity
500g
Best Before
6 Months after production date
Storing Guide
Keep in places with low humidity or keep them in the fridge
When saving dried koji, please avoid places with high temperature, high humidity, and direct sunlight that could change the dried koji's taste and quality. Please save it in a cool place such as the refrigerator and use sealed containers so the dried koji won't absorb any moisture.
Why shop with KAWASHIMAYA?