What is Black Garlic?
Black garlic is a healthy food that has been aged for about a month while maintaining a constant temperature and humidity. It turns brown when fermented and aged carefully.
In addition, during this fermentation and aging process, the content of polyphenols that are contained in garlic increases, and amino acids that are not present in raw garlic are produced. Due to its high nutritional value, such as amino acids, it is attracting attention as a miracle health food by many people.
Matsuyama Herb Farm's Black Garlic: Abundant In Nutrients!
Black garlic from Matsuyama Herb Farm's is rich in amino acids that are ideal for the energy charge of people living in modern society.
It contains higher nutritional value than other companies' black garlic products due to its special manufacturing method.
This black garlic, which contains abundant amino acids, supports those who want to stay healthy, feel tired from continuous hard work, and don't want to accumulate frustration or decreased mood.
Commitment to Black Garlic by Matsuyama Herb Farm's
Our black garlic grown in no. 1 garlic production area in the fertile land of Aomori, and certainly is a garlic that raised through established water.
Aomori is a land where the natural environment is prosperous and delicious agricultural products can be produced. The production of garlic here is also the highest in Japan. Furthermore, Matsuyama Herb Farm's is precise about water and soil.
The water is pure mineral water rich in minerals obtained by melting the snow accumulated on Mt. Hakkoda and filtering it over a long period.
Garlic from Aomori prefecture has the characteristics:
One piece is a large grain
The content is tight
High sugar content and sweet
Abundant of "Allicin"
And many more.
As Few As Possible Pesticides are Used By Specialized Farmers To Produce Delicious, Safe, And Assured Garlic
At Matsuyama Herb Farm's, black garlic specialist farmers aim for sustainable recycling agriculture to produce safe and delicious products in the long term and agriculture that doesn't rely on pesticides or chemical fertilizers.
The cultivation area is a plateau at an altitude of 150m at the foot of Mt. Hakkoda
The cultivation area is a plateau at an altitude of 150m at the foot of Mt. Hakkoda. The thickness of the snow is about 3-4m. However, this snow has a high sugar content to grow delicious garlic.
The sugar content of black garlic at Matsuyama Herb Farm's is 40 degrees. It is the snow that accumulates 3-4m on the plateau of the Hakkoda Mountains that produces the sugar content.
Here is how our black garlic has been made:
It takes about a year from planting garlic to producing black garlic. We carefully carry out every task from harvesting to shipping during that time.
At Matsuyama Herb Farm's, we are particular about processes such as aging after harvesting. While general black garlic products are added to deep seawater to add (hydrated) minerals, at Matsuyama Herb Farm's, garlic is aged only with the water itself, and garlic originally has no additives. We have adopted a manufacturing method that brings out the sweetness and sourness of garlic.
The "Hot Air Method" That Protects The Umami Ingredient In Garlic From Damage
Furthermore, by applying heat with hot air, we create products that hold the umami ingredients at once, prevent deterioration, products that can be stored for a long time, and have passed various inspections for delivery to our beloved customers.
How To Serve Black Garlic
Remove the skin and eat as it is
Black garlic can be peeled and eaten as it is. You can eat it quickly, so please enjoy it when hungry or as a snack.
The volatile sulfur compounds that cause odors are reduced by aging, so the unpleasant scent will not be noticeable within 15-30 minutes after eating. It is also recommended when going out.
In addition, it goes well with various dishes, so you can take it in without getting tired.
As a dressing
For you who also love salad and dressings, I recommend this salad with black garlic dressing. Black garlic also adds more nutrients to your salad, such as Amino Acid, Arginine, Polyphenol, and S-Allylcysteine that will give you more health benefits.
Salad with Black Garlic Dressing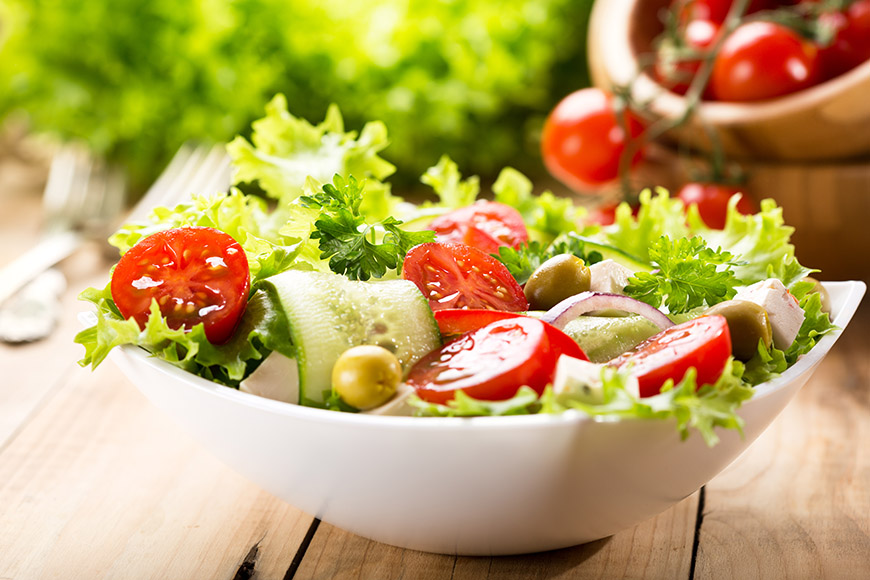 Ingredients
3 Cloves Black Garlic
4 tbsp Sesame Oil
2 tbsp Balsamic Vinegar
2 tbsp Japanese Soy Sauce
Salt And Pepper As needed
2 Tomatoes
1 Head Romaine Lettuce
1 Cucumber
How to Make
Cut the vegetables into bite sized pieces. Add them to a bowl.
Mix sesame oil, balsamic vinegar, soy sauce, and black garlic. While stirring, smash the black garlics (You can also just cut them into tiny bits instead of smashing them). Add salt and pepper to taste.
Pour the dressing on the vegetables and stir the salad.
Instead of using tomatoes, lettuce, and cucumber, you can also make this salad with your favorite vegetables.
As a sauce
If you haven't tried to eat black garlic, why don't you try to make this simple yet tasty recipe of Hamburger Steak with Black Garlic Sauce?
Hamburger Steak with Black Garlic Sauce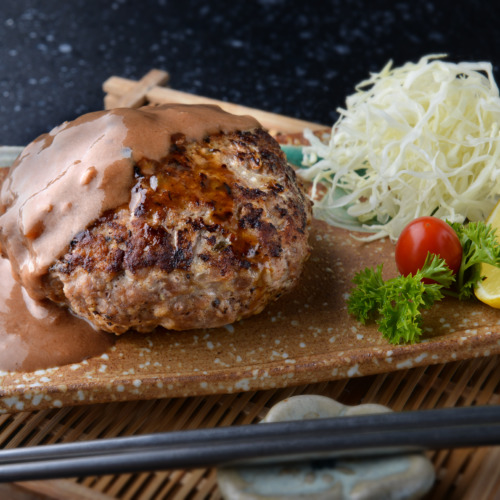 Ingredients
Hamburger Steak Ingredients

250 g Beef and Pork Minced Meat
½ Onion
50 g Panko Bread Crumbs
2.5 g Salt
A little of milk or water

Sauce Ingredients

3 Black Garlic ★
3 g Ginger ★
2 tbsp Sugar ★
2 tbsp Mirin ★
1 tsp Soy Sauce ★
1 tsp Sesame Oil ★

How to Make
Finely chop the onion and fry until it has a transparant, light color.
Place the lightly fried onion in a bowl and allow to cool until the heat is removed.
Put and mix all the hamburger steak ingredients. In a bowl, mix the ingredients (except the milk/water) and knead well until sticky.
Shape the hamburger steak. After the well-mixed, add milk/water until it reaches the right consistency and hardness. Then, shape the hamburger steak in your preferred size.
Cook the hamburger steak. Add oil to a frying pan and cook the hamburger steak on both sides over medium heat.
Cover the frying pan and steam for about 10 minutes.
Set the cooked hamburger steak in a plate for serving later.
Put the mixed sauce ingredients (★) in a frying pan used for the hamburger steak earlier, and let it boil to complete the sauce.
Pour some sauce into the serving plate with the steak. Feel free to serve with your favorite vegetables and mash potatoes.
Simply delicious main dish recipe of hamburger steak with black garlic sauce. Feel the Japanese cuisine-like steak sauce while still enjoying the juice steak meat!
As an essential ingredients to make pasta
Not only will it elevate the dish, but black garlic also adds health benefits because it is a fermented food.
Black Garlic in Tomato Pasta Recipe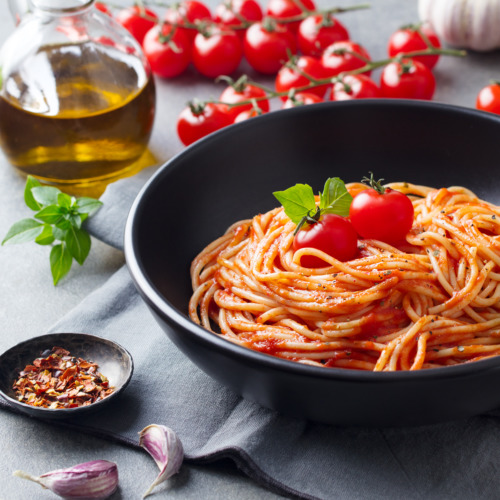 Ingredients
Pasta for 2 people (about 200g)
2 Black Garlic
1 Canned Tomato (can be substituted with 3-4 fresh tomatoes)
2 tsp Olive Oil
Salt and Pepper (to taste)
How to Make
Finely chop the black garlic.
Boil water in a pan, add a pinch of salt and start boiling the pasta. Cook until it reaches your preferred texture. After nicely cooked, drain the pasta and do not throw the broth.
Put olive oil and black garlic in a frying pan and heat over low heat.
Add canned tomatoes/fresh tomatoes to the frying pan, and boil down to reduce the water content by half. Then, the black garlic tomato sauce is complete.
Add the boiled pasta and a bit of pasta broth (1/2 ladle) to the sauce and mix. Add salt and pepper to finish.
The simple recipe of the homemade-style tomato pasta with adding nutrient-rich black garlic.
Q & A About Black Garlic
What is black garlic?
Black garlic is fermented and aged garlic while maintaining a constant temperature and humidity.
Can I eat it raw?
You can eat it. Since normal garlic is a food that is highly irritating and has a bactericidal effect, eating it raw may cause gastrointestinal upset and diarrhea.

Regardless, black garlic significantly reduces the bactericidal component "Allicin" during the aging process, so you can eat it raw.
How about the smell it's producing?
The volatile sulfur compounds that cause odors are reduced by aging, so the unpleasant odor will not be noticeable within 15-30 minutes after eating.
What nutritional value does it contain?
Ingredients such as arginine, lilcysteine, cycloalliin, proline, and pyroglutamic acid are contained in this black garlic.
How much is the daily intake?
We recommend that you eat one or two pieces, which is an appropriate amount for one day, continuously every day. It appears that some people feel heartburn and stomach upset when they eat too much.
Please tell me the best way to store it?
We recommend storing it in the refrigerator. If it is sealed with a ziplock, it can be deliciously eaten while maintaining its best quality for about six months.
Can it be used for cooking?
Of course, you can use it! The recommendation is to mix it with salad dressing without heating so that the dish can fully absorb black garlic. Besides, you can enjoy the mellow flavor, which is delicious to eat with steak or grilled fish.
Can children and people with weak digestive function eat it?
Black garlic is said to have the function of promoting digestion, so there is no problem. To be on the safe side, consult your doctor about taking this medicine if you are sick.
Customer's Voice
It's delicious

Large and delicious. I tried several kinds of black garlic, but this one was the most delicious. (Male, 50s)
I'm less tired

I try to eat one grain a day, and I feel less tired. I continue eating this with my husband. (Female, 40s)
It's easy to eat

It doesn't have the garlic-specific odor, so I just end up eating it a lot. (Female, 40s)
Delicious than making it by yourself

I tried to make black garlic with a jar for my health interests, but I stopped making it because it doesn't smelled good. When I was looking for the right one, I tried this, and the sweetness and deliciousness are higher than when I made it myself. Very delicious. (Female, 30s)
Unstoppable umami

I ate black garlic for the first time, but this is the sweetness and umami that I can't stop bearing. There is hope that the price will be a little cheaper, but it's really delicious. (Female, 50s)
Product Details
Quantities
300gr
Ingredients
Aomori Garlic
Storing Guide
Keep in a cool and dry place, away from the sunlight. Sometimes water droplets may adhere on the inside of the pack, but it won't change the quality.
Expires in
1 Year
Why shop with KAWASHIMAYA?